In Italian
What to see in Southern California?
What about the stages to put in an itinerary including not only Los Angeles and San Diego, but also the small towns on the coast, those inland ones and the parks? How many days to reckon for a loop from Los Angeles or for an extra path to add at the end of a road trip in the Southwest USA?
Find down here my itinerary in the Southern California, with deepener links, useful tips to rent a car and a series of considerations to always reckon before planning a such journey.
What to see in Southern California: tips, times and considerations about the journey
A such itinerary is usually chosen by who already has visited California ad its most iconic places and wants to discover – maybe coming back from the umpteenth journey to the Southwest – a more bit unusual and particular places.
It's an extremely simple and variegated path – with short travelling times and frequent stages – among nature, landscapes, scenic roads, original museums and nice small towns on the Ocean. Besides exploring what in my opinion is in all respects – a matter of taste and personal inspiration, of course – the most beautiful town in California – San Diego. Often and however unfairly ignored in favor of the most popular Los Angeles and San Francisco, as well a good part of the wonderful trait of coast linking to Los Angeles.
What to see in Southern California: itinerary
What to see in Southern California: from Los Angeles as far as Moreno Valley – 100 km
Leaving from Los Angeles within few dozen kilometers – driving US 71 first and US 60 then – you enter then one of the most fertile lands of Southern California, mainly famous for the production of citrus fruits.
The final destination is the ancient small town of Riverside, in the heart of the very green Moreno Valley.
Seat of the prestigious UCR University of California and of the California Citrus State Historic Park, a historic state park preserving and handing down the historic memory of the main local activity – the citrus fruits cultivation. It is possible to take part into a very particular guided tour to discover all its secrets and taste for free oranges, lemons, limes and grapefruits growing on the property.
Find here further info.
Riverside is a nice and extremely livable small town, in the old town it is possible to admire over 20 historical Mission Revival buildings, among them the Riverside Metropolitan Museum, the Riverside City Hall and then the very beautiful Mission Inn Hotel & Spa.
"It is the most unique hotel in America.
It's a monastery, a museum, a fine hotel, a home, a boardinghouse, a mission, an art gallery and an aviator's shrine.
It combines the best features of all of the above.
If you are ever in any part of California, don't miss the famous Mission Inn of Riverside."
(Will Rogers)
The Mission Inn Hotel & Spa is in all respects the biggest Mission Revival Style building in the United States.
Built in the second half of the 1800s it hosted even 6 American Presidents, several royal families and an important number of Hollywood stars over its long history.
Long as an entire block, the heart is embellished with rampant arches, backyards, colorful windows, a bell tower, a wrought iron circular stair, a chapel with a golden altar and includes antiques for a total amount of 7 million dollars. If you are interested in discovering and learning more, remember that 75 minutes guided tours leave for the Great Hall every day. Find here further info.
From the rooftop you have a wonderful view of the Moreno Valley and of the near Mount Rubidoux (it is possible to reach the famous white cross on the loop with a nice walk of about 2km) that once – as well a good part of Riverside – was owned by the Mission Inn founder.
If you decide to stay overnight at the Mission Inn Hotel & Spa, move well in advance: rooms are almost always sold out even weeks before.
What to see in Southern California: Yucca Valley & Joshua Tree National Park – 150km
From riverside through US60 – that in some traits leave place to I 10 – and then through US 62 – put a "photographic" stop in the old Western Pioneertown – reach Yucca Valley, the gate to the Joshua Tree National Park.
Yucca Valley and Twentynine Palms –little over than villages along US 62, with local antiques small stores, small cafes and a few restaurants – are the best places where to stay overnight, above all if you decided to dedicate more time to the Joshua Tree NP, maybe experiencing some more difficult trails.
Joshua Tree National Park extended for 3200 square kilometers and it is a preserved natural area characterized by rocky formations (called monadnock or inselberg) and by Yucca brevifolia plants, originated over 100 million years ago due to the cooling of the magma following a violent volcanic eruption.
It is the second greatest concentration in the world – the first one is located in the near Mojave National & Preserve – of Joshua Yucca Tree (called like that because the shape of their branches recalled the praying open arms of the biblical preacher Joshua) Yucca Tree.
Stops and trails not to miss:
Fortynine Palms Oasis Trail
Skull Rock
Hidden Valley
Keys View
Cholla Cactus Garden
Barker Dam Trail
Lost Palm Oasis Trail
You can get access to the park by one of the two entrances in the north (Joshua Tree or Oasis Visitor Center) and progressively drive towards the South gate (Cottonwood Visitor Center). Then reach the following stages of the itinerary.
What to see in Southern California: Palm Springs, Indio and Coachella – 50km
Palm Springs, one of the treasures of the Sonoma Desert in Southern California.
A destination beloved by Californians which is progressively attracting always an increasing number of international tourists. Taking advantage of the nearness to Los Angeles – just 2 hours driving – they choose it as a destination of peace and relax, spa, wellness centers, charm hotels, golf grounds, luxury stores in Palm Canyon Drive and Indian Canyon Drive and an historic district with museums dedicated to the local history, besides some very beautiful buildings dating back to the early 1900s.
And even the Palm Springs Aerial Tramway, an aerial tramway going up to 1800meters in 4km crossing even 5 different ecosystems as far as reaching an amazing view point of the whole Coachella Valley.
Besides the oasis, the paths and the rocky gorges of the Indian Canyons, Indio and Coachella small towns, their very colorful Mexican districts – worth it to be mentioned Coachella street art, the big part of murals is located in the Pueblo Viejo area, near Toqueria Jalisco, a downright institution in the area – and one of the most popular and awaited events of the year – Coachella Festival.
Find here a few suggestions and indications about where to sleep in Palm Springs and in the neighboring areas.
What to see ion Southern California: from San Bernardino National Forest & Anza Borrego State Park as far as San Diego – 250km
Leave behind Palm Desert, immediately after Indio, and drive the amazing scenic road US 74 progressively climbing the windings – with amazing viewpoints – among the San Bernardino National Forest the Santa Rosa and San Jacinto Mountains National Monument. Then go towards San Diego and the Anza Borrego Desert State Park. It's the greatest State Park in California, including a 2500 square kilometers preserved natural area of calanchis, palms oasis, canyons and cactus, besides a series of huge and odd artistic installations.
In addition, I recommend the Salton Sea nearby, a salt artificial lake of almost 1000 square km originated by a Colorado River flood. And also the Salvation Mountain artistic installation in Slab City, natural set of some movies scenes – like "In to the Wild" – and covers of music albums.
What to see in Southern California: San Diego
Give yourselves – if you can – at least a full day (two even better) in this wonderful and relaxing Californian city.
San Diego is sunny, welcoming, lively, on man scale and with that right mix of cultures and variegated traditions making it really unique.
What to see in Southern California: Oceanside and the coast as far as Los Angeles – 100km
Go up the coast from San Diego as far as Los Angeles. Ahead of you there are 200km of endless beaches alternating with short rocky traits, through small towns on the ocean, small harbors, museums, artistic installations and theme parks.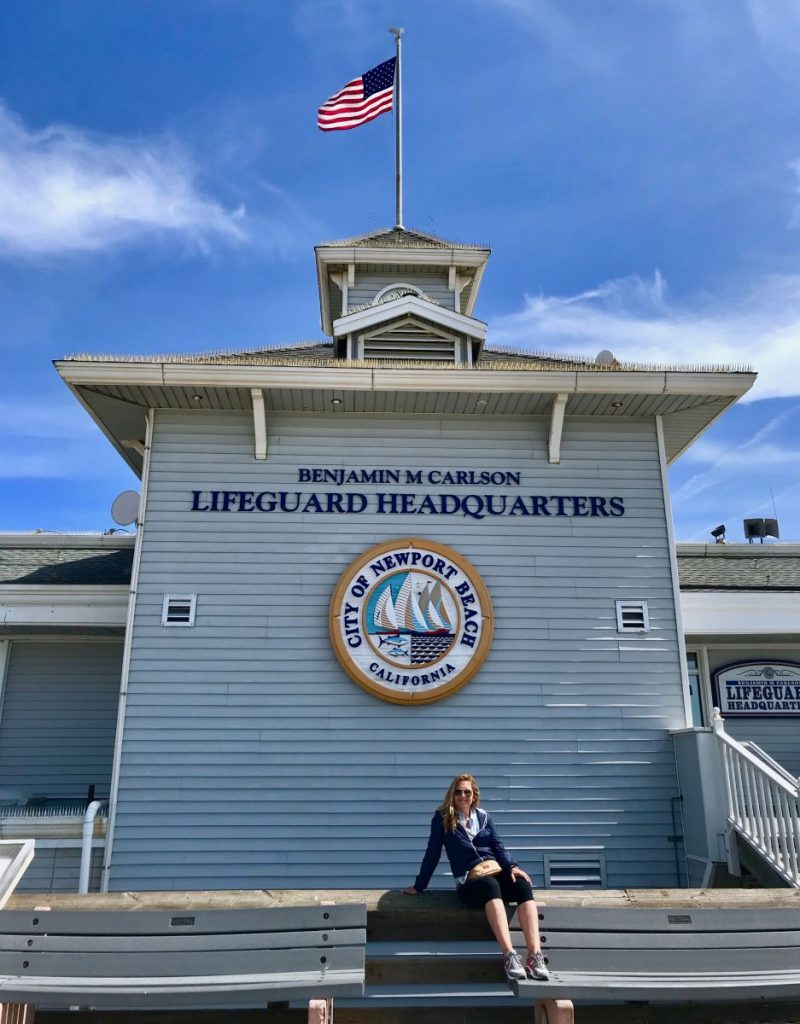 My tip: stop for some days of relax between Oceanside and its very rich neighborhoods. Here the complete itinerary.
Then keep going towards Los Angeles stopping in Laguna Beach, Newport Beach and Huntington Beach.